About
About Seattle World School
Seattle World School is Seattle Public Schools' culturally and linguistically diverse school for newcomer secondary students (Ages 11-20).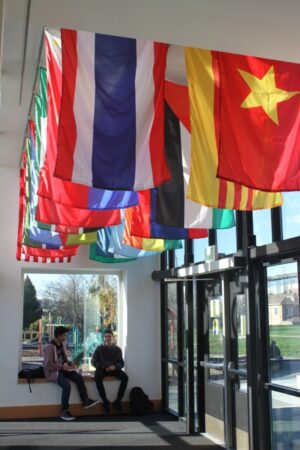 History of the School
SWS is a relatively new school. The school was originally established in 1980 as the Secondary Bilingual Orientation Center (SBOC).
As research evolved on how best to support emerging multilingual learners, the Multilingual Department in SPS partnered with Friends of Seattle World School (a community organization) to redesign the school model.
In 2011, our high school was redesigned as a 4-5 year program that accelerates English language acquisition within standards based core content teaching. It's a small school model that allows staff to support each student individually and respond to the changing immigration patterns in our country.
Personalized Learning and Academic Support
Seattle World School focuses on rigorous integrated content and language classes, which in turn provide opportunities for social mobility in the United States.
In 9th and 10th grade, we house a newcomer program that supports students with social and emotional strategies and integrated language and content in each class. Students build a sense of belonging and student identity as they begin their American high school journey with us.
In 11th and 12th grade, we house college and career pathways that support specific student interests, and allow students to choose their own college or career pathway. 100% of our 2022 class applied for college, with a 1:4 ratio of adult support in senior seminar classes.
Our 11th and 12th grade career pathway options focus on project-based learning environments throughout our students' high school experience to maximize engagement and prepare students to be successful in their post secondary goals. Based on national trends and local data, we support students who want to pursue a Bachelor of Science at a 4 year college in computer science (software engineering), healthcare fields and business as well as vocational fields. We work collaboratively with families and students to navigate US systems and become self and global advocates in a changing US society.
Safe and Supportive Learning Environment
Students are immersed in a multilingual, multicultural environment and given the opportunity to build cross cultural relationships to further support English development. We have students from 28 different countries that speak 34 different languages. We host cultural events and provide space for students to build community with students with shared identities and experiences.
Our small school atmosphere allows for every student to feel safe and supported. Upon entry to our school, every student is enrolled in an advisory class and is assigned an adviser to supports social-emotional learning, and serves as a point person for student and family support. Advisers also connect students with resources from our in-house clinic, Kandelia, our community partners, and our Family and Student Support Worker. Families are also supported by multilingual instructional staff who speak several of our home languages.
We welcome 8th-12th graders! Please contact our office if you would like to know more.
Contact Us
Principal Jeff Clark
jclark@seattleschools.org
1700 E. Union St.
Seattle, WA 98112
Main Office: 206-252-2200
Fax: 206-252-2201
---
Vision and Mission
Vision: A school where every student is a life-long learner, culture is celebrated and community is nurtured. Each student is supported for language and academic excellence preparing them for success in college, career and life.
Mission: The Seattle World School community is committed to mentoring students in navigating academic and career goals with holistic services. Our mission is to provide rigorous academics supported by social-emotional development opportunities and life skills. Our focus is to empower students as self, and global advocates in our rapidly changing world.
Student Values and Beliefs
We believe in creating an exceptional and rigorous learning environment for students by:
Providing information in more than one language and different modes of communication.
Giving recognition to their native language, culture and valuing individual identity.
Encouraging self-advocacy and independence in learning.
Connecting students with college and career internships and vocational readiness opportunities.
Family Values and Beliefs
We believe in engaging parents and families and the wider community in a meaningful and cooperative partnership by
Providing a welcoming environment in the school with up-to-date resources.
Strengthening relationships between parents and staff with culturally sensitive, authentic communication.
Celebrating cultural backgrounds.
Providing academic, social and enrichment events.
Connecting individuals with necessary social services in a respectful manner.
SWS Staff Values and Beliefs
We believe in supporting staff success by:
Conducting professional development with research-driven English Language Learner (ELL) best practices.
Building strong collaboration with joint school and community projects.
Facilitating family involvement through engaging and relevant school gatherings.
Providing a safe, health minded and well-resourced school environment.
Nurturing a diverse, international community of learners with a culture of positive interactions.